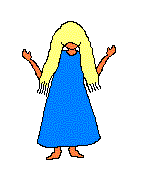 Headcovering
One of the new paths in my life that the LORD had led me into is wearing a head covering. I had been thinking about 1 Cor 11 for years - Larry always said that my long hair was good enough as far as he was concerned.
But recently my hair started disappearing! My hair has tended to change every 5 years - and this time it changed for the WORSE.
Then one night in my laundry room, I was praying as I pulled clean clothes out of the dryer. The laundry room was cold, and as I worked, I pulled a blanket out of the dryer and threw the whole thing over my head.
And it clicked - THIS was what I had been looking for!
So now I wear a scarf over my head all the time - and I like to throw a large shawl completely over my head when I'm praying at church. Like I'm under a tent - just in my own little world there - me and Jesus...